Noriyuki Moto is a Japanese artist
who continues to fascinate the world by using only brush and airbrush in all his works.
He never uses any of computer graphics.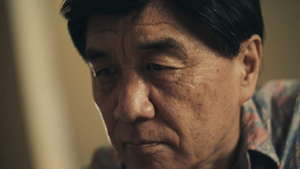 He was born in 1949 at Fukushima (The Northern region of Japan).
Due to his parents' migration to Hawaii, at the age of 20, he divided his life between Hawaii and Tokyo. All of his works have been inspired and informed by these two different cultures.
After graduating from academic design college in Japan, he learned the original mode of expression in animation. His early illustrations which were presented on a monthly magazine cover have created lots of admirers and his jobs have expanded into magazine and publishing.
He had become a pupil to Yoshimoto Barron, a well known Japanese cartoonist. He started working in action comics and his interest had carried on to SF Arts. Many of his illustrations were presented in comic magazines. Moto's works have been accepted by an internationally well-known Japanese cartoonist, Osamu Tezuka. Moto became a member of Tezuka's team and played an important role in the making of Tezuka's movie and animation. Moto's works were demonstrated in many parts in"Hinotori", a famous film by Tezuka.
Nevertheless, Moto's interest was extended in other fields which are not restricted in Tezuka's only. His potential has also developed into the "game" designs embarking him into a new world of making the cover of books. His activity has expanded to even further and bigger by creating a commercial design and characters of tourist resorts, such as Osaka Dome and Seto Bridge.
Moto also worked as a teacher at Design College for 15 years, and about 1800 students have been graduated under his teaching. He was very trustworthy and popular among his students and still keeps in touch with the graduates. 
In recent year, Moto produces the original picture of a jigsaw puzzle and it has been displayed at the Tokyo Toy Show held at the Chiba Makuhari Messe for 3 consecutive years. The discovery of his talent by the producer of "Christian Lassen" has spurred overseas recognition, especially in France, the "renowned country of arts". His sense of colour and the delicate touch in his art were praised by the French. Many of his works were sold in France. 
Moto's work, " HikaruKaiga" was announced at the New York Expo and attracted enormous popularity. The Walt Disney Company was also one of the companies who have brought attentions. One of his works, "Mikonos Fantasy" is now possessed by former President Clinton.

His recent work, a design of the illustration on the shampoo bottle of Sunny Place Co. Ltd, has achieved the world's first collaborative work of "shampoo x paint"
Moto is now giving an exhibition crisscross the country. The paints have reached over 500 orders from his exhibition, and still continues to be popular.